Una proteina danneggia la vista dei neonati prematuri
Si chiama chinasi JNK1 e ha un ruolo nello sviluppo della ROP
7 maggio 2009 – Una proteina minaccia la salute dei neonati prematuri: si chiama chinasi JNK1 e può essere un 'killer' della vista. Infatti, chi nasce prima del tempo è particolarmente esposto al rischio di contrarre una malattia della retina chiamata ROP, che può provocare cecità.
Ricercatori californiani dell'Università di San Diego – che hanno condotto uno studio su cavie da laboratorio – stanno pensando a una terapia che possa bloccare la produzione della proteina chinasi, salvando così la vista dei piccoli nati prima
del tempo. Il punto è che esiste la necessità di erogare ossigeno per garantire lo sviluppo dei polmoni e degli altri organi; tuttavia, la vista può subire danni irreversibili perché, quando il neonato torna a respirare l'aria normale, la sua retina reagisce al ridotto apporto di ossigeno producendo più vasi sanguigni che ne danneggiano la funzionalità (angiogenesi provocata da fattori di accrescimento chiamati VEGF). però i ricercatori sperano nella messa a punto di una terapia efficace: si sono resi conto che, nelle cavie in cui era stata inibita la proteina JNK1, i livelli di VEGF risultavano dimezzati e, dunque, la loro retina funzionava in modo normale.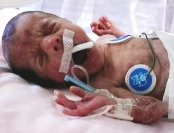 In un ospedale Australiano – citato nello studio pubblicato on-line Proceedings of the National Academy of Sciences (PNAS) – si è riscontrata la retinopatia del prematuro in quasi la metà dei nati tra la 27° e la 28° settimana di gestazione (settimini), mentre l'incidenza è salita al 65% per i nati tra la 23° e la 26° settimana di gestazione (102 bambini su 157). Il problema è che la retinopatia provoca danni irreversibili ai vasi retinici immaturi: in ultima battuta si può perdere la vista se la formazione anormale dei vasi porta al distacco di retina .
Fonte: Università della California, San Diego (Usa).

Numero Verde di assistenza oculistica (tutte le mattine dei giorni feriali non festivi, dalle 10 alle 13). Risponde un medico oculista se si scrive anche nel forum del sito della IAPB Italia onlus .Nota: per variare la dimensione dei caratteri premere il tasto Ctrl assieme ai tasti +/- oppure girare la rotellina del mouse mentre si tiene premuto Ctrl.