ROP, trattamento precoce nelle forma grave La retinopatia del prematuro è una delle minacce principali per la vista. Secondo ricercatori Usa si può evitare la cecità nel 75% dei casi 28 maggio 2010 – Con un trattamento oculistico tempestivo si può evitare la cecità nel 75% dei casi se si è nati prematuramente quando si è colpiti dalla forma più grave di retinopatia (ROP). Pertanto un check-up oculistico alla nascita e un controllo periodico di uno specialista può salvare la vista ed è consigliabile per tutti i neonati. Ricercatori californiani hanno studiato la vista di 370 bambini di 6 anni d'età; a tutti era stata diagnosticata una ROP; ma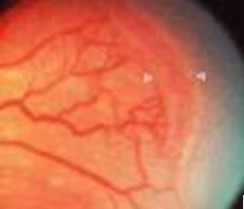 parte di essi è stata trattata precocemente mentre l'altra è stata curata con i tempi convenzionali. I ricercatori hanno concluso che il trattamento precoce dovrebbe essere effettuato solo sugli occhi affetti dalla forma più grave e più aggressiva di retinopatia del prematuro (ROP di tipo 1). Gli occhi trattati presto hanno dimostrato avere una vista migliore rispetto a quelli curati con maggiore lentezza, senza andare incontro a grandi rischi di complicazioni oculari. Solo negli Usa si stima che siano colpiti da ROP 15 mila prematuri l'anno; a rischio sono generalmente i nati prima della 31° settimana e quelli sottopeso (meno di 1,2 Kg). Però, secondo il National Eye Institute (NEI), "circa il 90 per cento dei bambini colpiti da ROP hanno una forma leggera che non richiede trattamento, sebbene coloro che sono affetti dalla forma più grave possano sviluppare una disabilità visiva per tutta la vita ed eventualmente la cecità". Secondo lo studio statunitense il 75% dei neonati colpito dalla forma più aggressiva di retinopatia si è salvato dalla cecità essendo stato trattato precocemente, mentre la percentuale è scesa al 67% se i tempi d'intervento sono stati più lunghi. Nota: lo studio è stato finanziato dal NEI ed è stato pubblicato on-line nel sito della rivista Archives of Ophthalmology.
Fonti: NEI , Archives of Ophthalmology .
Ultima modifica: 27 giugno 2014