Una diagnosi tempestiva può salvare la vista dei neonati. Però negli Stati Uniti i livelli d'intervento sono difformi
Salvare la retina di un neonato può significare consentirgli di vedere per il resto della propria vita. Eppure la cosiddetta retinopatia del prematuro (ROP) negli Stati Uniti è ancora sottovalutata, soprattutto a causa di un insufficiente apporto di professionisti nelle Unità di terapia intensiva neonatale. A denunciarlo è la rivista dei pediatri americani [[Rebecca J. Vartanian, Cagri G. Besirli, John D. Barks, Chris A. Andrews, David C. Musch, "Trends in the Screening and Treatment of Retinopathy of Prematurity", Pediatrics Dec 2016, e20161978; DOI: 10.1542/peds.2016-1978]] sulla base di un sondaggio condotto tra i medici.
Secondo gli autori dello studio – Rebecca J. Vartanian, neonatologa dell'Università del Michigan, e i suoi colleghi del Kellogg Eye Center – oltre un quarto (28%) delle Unità di terapia intensiva neonatale statunitensi non fornisce un trattamento adeguato in caso di ROP.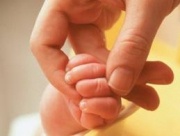 Negli Usa attualmente i neonati che pesano fino a 1,5 kg, nati prima della trentunesima settimana, vengono visitati di prassi da un oculista. Tuttavia solo il 21 per cento degli specialisti ricorre alla diagnostica per immagini della retina.
Nel 2014 una sperimentazione clinica multicentrica, sponsorizzata dal National Eye Institute, ha dimostrato che la telemedicina è efficace: quest'approccio può potenzialmente dare a milioni di prematuri nel mondo un accesso più vasto a cure salva-vista. Ad esempio, tra i trattamenti più frequenti, c'è il laser fotocoagulativo (85% dei casi), a cui seguono le iniezioni intravitreali (circa un quinto dei casi).
Fonti: Pediatrics, University of Michigan Health System