Meno 'luce' per i malati di amaurosi congenita di Leber Una ricerca internazionale ridimensiona le possibilità offerte dalla terapia genica 7 aprile 2010 – è arrivato uno stop per le ricerche della cura dell'amaurosi congenita di Leber, una malattia ereditaria rara che rende ciechi. Da alcuni anni, infatti, diverse équipe di ricerca internazionali stanno tentando di trattare questa patologia oculare ricorrendo alla terapia genica: iniettando uno o più geni 'sani' sotto la retina si tenta di rimpiazzare quello/i 'malato/i', donando in questo modo la vista. Buoni risultati sono stati, ad esempio, ottenuti lo scorso anno dall'Università di Pennsylvania e dal Children's

Hospital di Philadelphia, dove – dopo una sola iniezione sottoretinica – sei persone su dodici non sono più considerate legalmente cieche (clicca qui per approfondire). In particolare, su un bambino di otto anni sono stati ottenuti risultati eclatanti e la sua nuova condizione di vedente, che gli ha consentito di seguire un percorso indicato con frecce nere, per ora sembra stabile.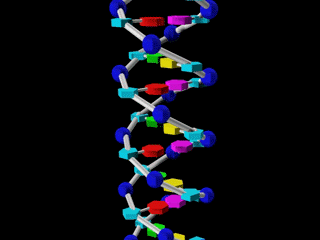 Tuttavia, ricercatori dell'Università dell'Iowa (Usa) e dell'ospedale pediatrico di Toronto (Canada) hanno rilevato come questo approccio sia efficace solo in un numero limitato di pazienti. Infatti, deve essere presente una mutazione genetica ben precisa per essere trattati: quella del gene RPE65, che può essere sostituito con una copia sana del gene stesso usando come vettore il virus del raffreddore preventivamente svuotato del suo contenuto genetico. Il problema è che le degenerazioni retiniche provocate dall'amaurosi congenita di Leber sono dovute complessivamente alla mutazione di almeno 15 geni, per cui bisogna considerare il ruolo che essi hanno nello sviluppo della malattia. Quindi, in parecchi casi la patologia (che colpisce circa una persona su 80mila) non sarebbe curabile. Già lo scorso febbraio su L'Unione era comparso un articolo critico nei confronti del sensazionalismo che dà false speranze ai malati. Ad esempio, su due gemelli a cui è stata praticata la terapia genica presso la Seconda Università di Napoli, solo uno di essi ha riferito dei miglioramenti molto limitati, che consistono nella mera percezione di lampi luminosi, senza un apprezzabile miglioramento visivo. Referenze originali: "Which Leber congenital amaurosis patients are eligible for gene therapy trials?" by Arlene V. Drack, MD, Rebecca Johnston, BA, and Edwin M. Stone, MD, PhD. The editorial is "My child has Leber congenital amaurosis: Why is he/she not eligible for gene therapy trials?" by Elise Héon, MD. Both appeared in the Journal of AAPOS, Dec. 2009, Volume 13, Issue 6, published by Elsevier.
Fonti: Elsevier Health Sciences, University of Pennsylvania, The Lancet, L'Unione (mensile dell'Unione italiana dei ciechi e degli ipovedenti).