Malati di retinite pigmentosa a confronto Studio pubblicato sull'American Journal of Ophthalmology on-line da un gruppo di ricercatori italiani 29 novembre 2010 – I malati di retinite pigmentosa – una patologia genetica retinica rara – possono nutrire qualche speranza in più. Se purtroppo non si può bloccare la degenerazione dei fotorecettori che muoiono a partire dalla periferia del campo visivo, almeno si possono trattare alcune complicanze: dall' edema maculare al foro retinico . A sottolinearlo è il Prof. Enzo Vingolo, Primario dell'Ospedale di Latina. Assieme ai suoi collaboratori ha appena pubblicato uno studio sull'American Journal of Ophthalmology (on-line dal 22 novembre prima della stampa) in cui ha esaminato e confrontato 118 occhi di 59 pazienti, con un'età media di 47 anni, dei quali 32 sani perché impiegati come gruppo di controllo. Per lo studio sono stati utilizzati principalmente due strumenti: l' OCT e il microperimetro.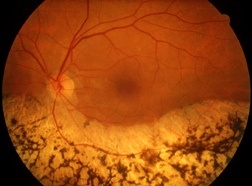 "La ratio dello studio – ha dichiarato il Prof. Vingolo – è una comparazione ad alta risoluzione di come sta e come funziona la retina nei pazienti di retinite pigmentosa. La cosa nuova è che, contrariamente a quello che si pensava (che i pazienti dovessero diventare ciechi), molto spesso hanno delle perdite funzionali della retina così come rilevate con la microperimetria (campo visivo fatto direttamente sulla retina)". "Per fortuna la maggior parte dei pazienti non diventa cieca, ma resta ipovedente. In ogni caso i quattro gruppi di pazienti che abbiamo individuato possono arrivare a un'atrofia retinica per tre vie diverse: per un danno alla coroide (più rara, la retina si 'secca'), per un edema maculare (la retina si riempie di liquido, ma si può trattare) e per la formazione di un foro maculare (per una membrana che strappa il centro della retina). In questi ultimi due casi si può recuperare perché i malati si possono operare. L'intervento di vitrectomia si fa normalmente nei pazienti con foro maculare, non in quelli su retinite pigmentosa; ma, stando alla mia esperienza, può dare buoni risultati anche in quest'ultimo caso". Lo studio conclude, comunque, che occorreranno ulteriori ricerche per indagare la relazione tra la perdita di fotorecettori, la sensibilità retinica e la fissazione nei pazienti colpiti da retinite pigmentosa. Note: I quattro gruppi sono: 1)36 occhi, età media di 33,5 anni, senza alterazioni maculari, migliore acuità visiva con correzione di 0,95 (BCVA) e spessore foveale medio di 256,3 micron; 2)28 occhi, età media di 35,4 anni, con edema maculare e acuità visiva media con correzione di 0,72 e spessore foveale medio di 363,5 micron; 3)26 occhi, età media 50,8 anni, con trazione vitreo retinica e acuità visiva media con correzione di 0,5 e spessore foveale medio di 337,1 micron; 4)28 occhi, età media di 52,1 anni e assottigliamento retinico (spessore foveale medio di 174,2 micron) e acuità visiva media con correzione di 0,36. Perdita della funzionalità della retina. Referenza originale: "Fourier-Domain Optical Coherence Tomography and Microperimetry Findings in Retinitis Pigmentosa", 22 November 2010, Stefano Lupo, Pier Luigi Grenga, Enzo Maria Vingolo, American Journal of Ophthalmology, DOI: 10.1016/j.ajo.2010.07.026
Fonte di riferimento: AAO
Ultima modifica: 21 dicembre 2010.