Ottenuti risultati positivi in 5 persone con cecità centrale provocata da AMD essudativa avanzata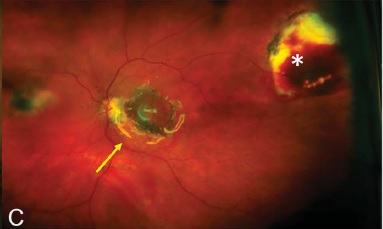 Per dirla in modo semplicistico, "ci hanno messo una toppa": hanno prelevato una porzione di retina dalla periferia della persona malata di AMD e l'hanno impiantata al centro della sua retina. A riuscire nella straordinaria impresa – foriera probabilmente di ulteriori prospettive – è un'équipe composta da specialisti italiani [Istituto Clinico S. Anna, Brescia]] e americani [[Department of Ophthalmology, Duke University Medical Center, Durham, North Carolina]], che ha pubblicato uno studio scientifico sulla rivista [Retina [Parolini B, Grewal DS, Pinackatt SJ, Baldi A, Di Salvatore A, Besozzi G, Finzi A, Cardillo D, Mahmoud TH, "Combined autologous transplantation of neurosensory retina, retinal pigment epithelium, and choroid free grafts", [Retina, 2017 Nov 23, doi: 10.1097/IAE.00000000000]].
Il trapianto di retina è stato effettuato in 9 occhi di altrettante persone all'ultimo stadio della forma umida o essudativa della degenerazione maculare legata all'età (AMD), malattia che può causare cecità centrale. Non vedendo ormai praticamente nulla – quasi tutti riuscivano a malapena a contare le dita della mano –, oltre metà dei soggetti (5 su 9) hanno avuto un miglioramento dopo essersi sottoposti all'intervento chirurgico citato.
Nel migliore dei casi sono stati recuperati due decimi, in altri tre casi un ventesimo, mentre in ulteriori quattro casi si è rimasti alla conta delle dita (ossia nessun miglioramento); invece un'altra persona è passata dalla mera percezione del movimento della mano alla conta delle dita.
L'età media di chi si è sottoposto a sperimentazione era di 74 anni; mediamente i volontari sono stati seguiti per 7 mesi dopo il trattamento chirurgico (follow-up). Non sono state notate complicanze importanti come il distacco di retina. Anche se saranno necessarie ulteriori sperimentazioni su un numero superiore di persone, il trapianto di retina rappresenta una della soluzioni chirurgiche che in futuro si potrebbero considerare. [[I ricercatori concludono quindi che "l'innesto combinato di porzioni di retina del complesso epitelio pimentato retinico-coriocapillare (RPE-choroid) e di retina neurosensoriale è una potenziale alternativa chirurgica per occhi con degenerazione maculare essudativa all'ultimo stadio, compreso un concomitante foro maculare refrattario".]]
Fonte: Retina